Transfer Events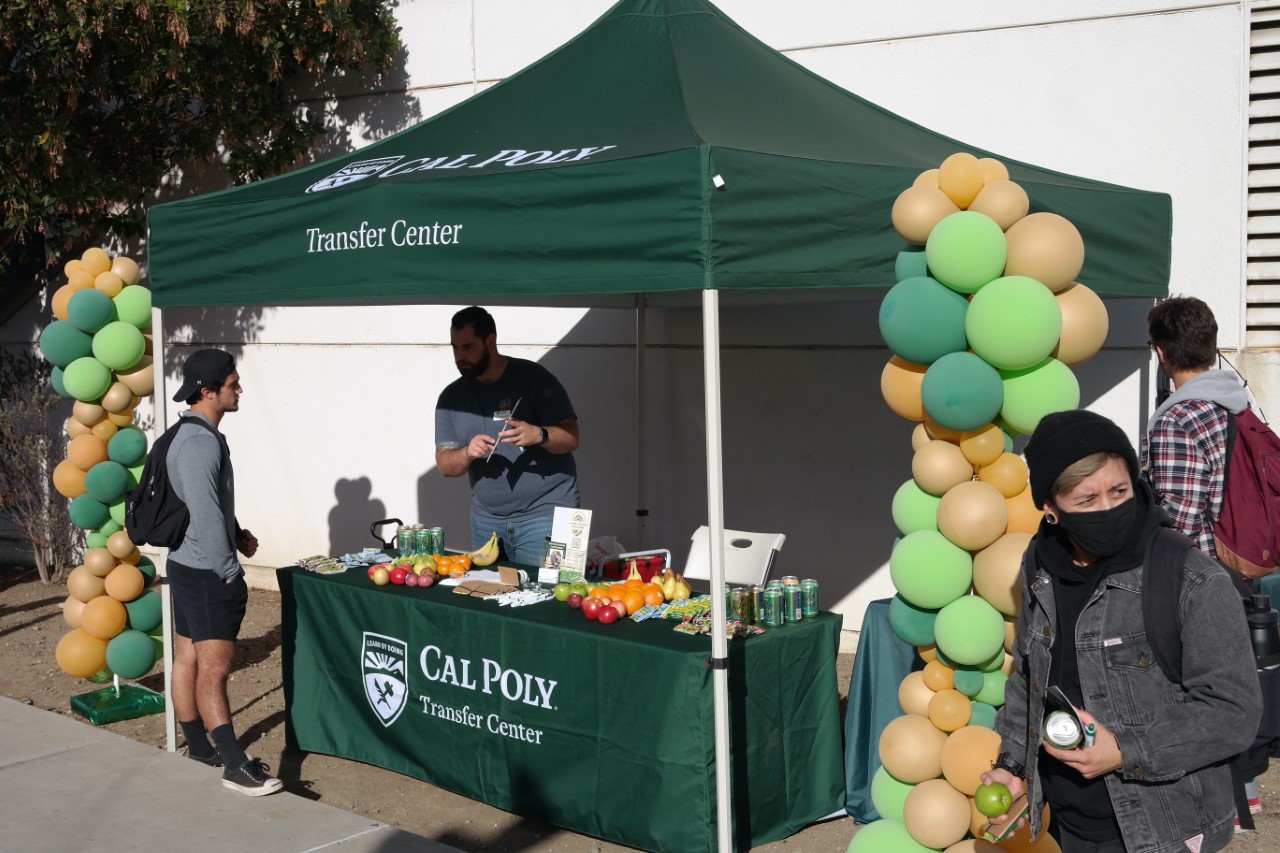 Annual Events
National Transfer Student Week
Join us in the 3d week of October to celebrate transfer students! This is a national event celebrated by campuses across the country.
Study Breaks
During finals week of fall, winter, and spring quarters we will have study breaks for transfer students!
Check out our events schedule above and our google calendar for more information!
Transfer Appreciation Night with Cal Poly Athletics 
The Transfer Center partners with Cal Poly Athletics once a year to host a Transfer Appreciation Night! We highlight transfers within the athletic community, share transfer resources, and celebrate transfer success. 
2023 - Transfer Appreciation Night was at a Baseball game 
2022 - Transfer Appreciation Night was at a Men's Basketball game
Fall 2023 Transfer Center Events!
Community Building, Academic Support, Resource Connection & More
All transfers are welcome, events are free! 
It's totally ok to come by yourself, we have transfer staff there excited to connect with you. Students with dependents you are more than welcome to bring your kids.
Week 1
Transfer Fall Welcome

Mon. 9/25: 3 - 5pm, Transfer Center & Baker Lawn

Transfer Career Day 

Fri. 9/29: 10am - 4pm, Advanced Technology Lab (ATL) Bldg 7
Week 2
Transfer Talk

Tues. 10/3: 11am, Bldg 52 RmE29 (next door to Transfer Center)
Week 3
 Lunch & Learn: Expressing Healthy Relationships with Safer & the Transfer Center as a part of Domestic Violence Awareness Month programming 

Tues. 10/10: Noon - 1pm, Bldg 52 RmE29 (next door to Transfer Center)
Week 4  
National Transfer Student Week
Week 5
Transfer Registration Workshops   

Tues. 10/24: 6pm on zoom (zoom link coming soon) 
Wed. 10/25: 2:10 - 3pm in Bldg 180 Rm 112 
Thurs. 10/26: 11:10am - Noon in Bldg 180 Rm 114
Week 6 
Transfer Talk: College Connections

Tues. 10/31: 4pm, Dexter Lawn
Week 7
Gra-TEA-tude

Wed. 11/8: 10am - Noon, Bldg 52 RmE29 (next door to Transfer Center)
Week 8
Transfer Talk: Debunking Transfers Studying Abroad

Tues. 11/14: 4pm, Bldg 52 RmE46 (down the hall from the Transfer Center)
Week 9
TGIF Coffee & Donuts with your transfer academic coaches 

Fri. 12/1: 9:30 - 11:30am, Bldg 52 RmE29 (next door to Transfer Center)
Week 10 
Transfer Talks: College Connections

Tues. 12/5: 11am, Bldg 10 Rm200 
Finals Week - Study Breaks
Monday, Tuesday & Wednesday of Finals Week 

Event titles, timing and location coming mid-fall quarter
Related Content